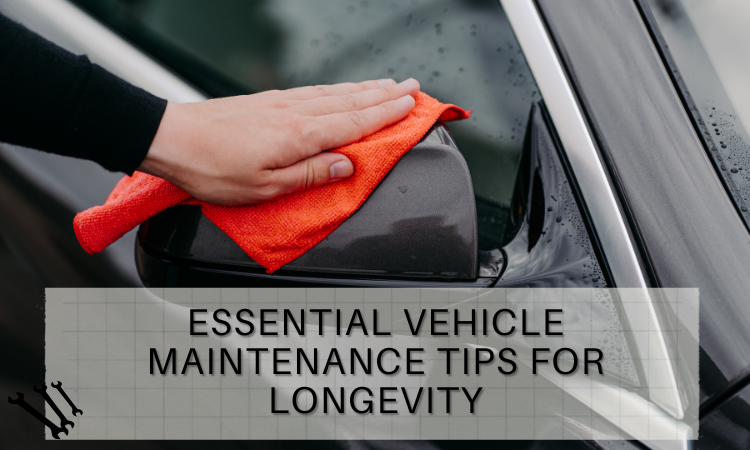 Essential Vehicle Maintenance Tips for Longevity
As a vehicle owner, ensuring the longevity of your car is crucial for both your safety and the overall performance of the vehicle. By following essential maintenance tips, you can keep your vehicle in top shape and avoid costly repairs down the road.
Regular Oil Changes
One of the most critical aspects of vehicle maintenance is regular oil changes. Engine oil lubricates the internal components, reduces friction, and helps dissipate heat.
Over time, the oil breaks down and becomes less effective, leading to potential engine damage. It is recommended to change the oil every 3,000 to 5,000 miles or as per your manufacturer's guidelines. Pilgrims of March provide a wide range of servicing levels to keep your car working in tip top condition.
Check and Maintain Fluid Levels
In addition to oil, other fluids such as coolant, brake fluid, transmission fluid, and power steering fluid play crucial roles in your vehicle's proper functioning.
Regularly checking these fluid levels and topping them up as needed is vital. Low fluid levels can lead to overheating, poor brake performance, and other mechanical issues.
Inspect and Rotate Tyres
Proper tire maintenance is essential for both safety and vehicle longevity. Regularly inspect your tyres for any signs of wear, such as uneven tread or bulges.
Additionally, rotating the tyres every 5,000 to 7,000 miles promotes even wear and extends their lifespan. Adequate tire pressure should also be maintained to ensure optimal performance and fuel efficiency.
Keep the Battery in Good Condition
A healthy battery is crucial for starting your vehicle and powering electrical components. Regularly inspect the battery for signs of corrosion or loose connections.
Clean the terminals and ensure a secure connection. If your battery is more than three years old, consider having it tested or replaced to prevent unexpected breakdowns.
Replace Worn-out Wipers and Lights
Good visibility is vital for safe driving. Check your windshield wipers regularly and replace them if they leave streaks or are not effectively clearing the windshield.
Similarly, ensure all your vehicle lights, including headlights, taillights, and indicators, are working correctly. Replace any burnt-out bulbs promptly to maintain visibility on the road.
Clean and Protect the Exterior
Regularly washing your vehicle not only keeps it looking good but also helps protect the paint and prevent corrosion. Use a mild automotive detergent and a soft sponge or cloth to avoid scratching the surface.
Apply a coat of wax to protect the paint from UV rays and environmental contaminants.
Maintain the Interior
A clean and well-maintained interior enhances your driving experience and helps preserve the value of your vehicle. Regularly vacuum the carpets and seats to remove dirt and debris.
Use appropriate cleaning products for different surfaces, such as leather or fabric, and ensure proper ventilation to prevent unpleasant odors.
Pay Attention to the Braking System
Your vehicle's braking system is crucial for your safety. Regularly inspect the brake pads, rotors, and brake fluid levels. If you notice any unusual noises, vibrations, or reduced braking performance, have your brakes inspected by a professional mechanic immediately.
Timely brake maintenance can prevent accidents and costly repairs.
Keep the Engine Cool
A properly functioning cooling system is essential for preventing engine overheating. Regularly inspect the coolant level and condition. Check for any coolant leaks or signs of radiator damage.
Over time, coolant loses its effectiveness and may require flushing and replacement. Ensure the radiator fins are clean and free from debris to maximize cooling efficiency.
Address Issues Promptly
Promptly addressing any issues or warning signs can prevent further damage and costly repairs. If you notice any unusual sounds, vibrations, dashboard warning lights, or changes in performance, consult a qualified mechanic to diagnose and resolve the problem. Ignoring minor issues can lead to more significant problems and jeopardize your safety.
Store Properly when Not in Use
If you have a vehicle that is not regularly driven, proper storage is essential for its longevity. Keep the vehicle in a dry and well-ventilated area to prevent moisture buildup and rust. Consider using a car cover to protect the exterior from dust and debris. Start the engine periodically and allow it to reach operating temperature to prevent issues caused by prolonged inactivity.
If you are making a long journey, why not bring your car to Pilgrims of March in Cambridgeshire, where we can check how well it runs and whether it needs an work doing to get it back up to standard?
Latest News