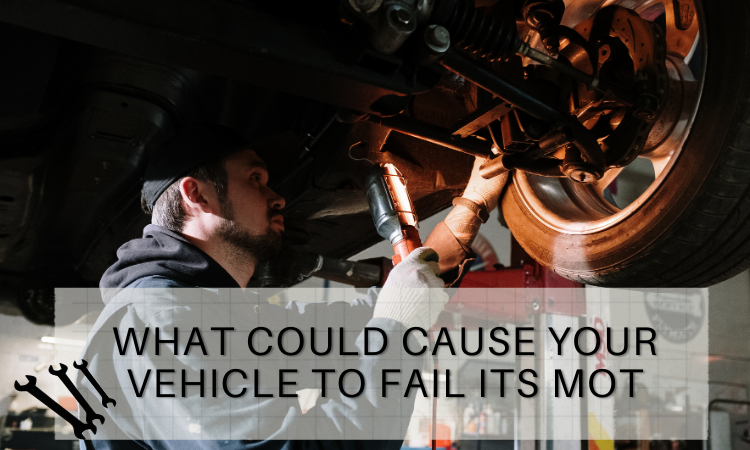 What could cause your vehicle to fail an MOT
When your MOT is due, you might be fraught with worry over whether your car will pass or fail, even if you regularly take care of your car and keep up with the service schedule.
Your car can fail its MOT for what might be considered minor repairs, but the stress and inconvenience of failing an MOT can be worse than solving the issue first hand.
There are some components of your car that you can fix yourself, or that can be fixed relatively easily (and cheaply) by your local garage.
Seatbelts
Seatbelts are an integral part of the safety makeup of any car. Seatbelts became a legal requirement throughout the car back in 1983, meaning all occupants must wear their seatbelt whilst the car is moving.
Solution – you can do a visual inspection of the seatbelts yourself. Check the condition of the fabric (looking for any tears or cuts) and check that the clips fasten correctly.
If you can see any issues, take your car to your local garage who will be able to recommend what work should be completed.
Airbag Light
The airbags are a major safety component of any car, so if the airbag light is on, this will cause your car to fail its MOT, regardless of whether it has an otherwise clean bill.
This is because the airbag system is an important safety feature of your car, and if the light is on, it means that there is a problem with the system. If the airbag system does not work properly in the event of an accident, it could seriously injure or kill you or other occupants of the car.
The MOT tester will check the airbag light as part of the MOT test. You will need to get the problem fixed before you can take the car for another MOT.
There are a number of things that can cause the airbag light to come on. Some of the most common causes include:
A faulty airbag sensor
A faulty airbag module
A damaged airbag
A loose or disconnected airbag wire
If the airbag light comes on, you should take your car to a garage to have it checked by us here at Pilgrims of March. We will be able to diagnose the problem and fix it.
Solution – there are several reasons why your airbag light could be illuminated, from an error with an airbag, to an issue with a seatbelt. You can contact us and we would be happy to help diagnose the problem.
Tyres
When it comes to the condition of your tyres, you can fail your MOT for having a tread depth that doesn't meet the minimum legal requirement, which is 1.6mm.
Not only this, if your tyres are found to have any bumps, bulges or cracks, or there is visible cord, this will also result in an MOT fail.
Solution – you can check the tread depth of your tyres just by using a 20p coin. Simply insert the coin into the tread (grooves) of your tyre, and if the inside line of the coin is still visible, then the tread is too low.
If your tread is too low, you can have your tyres replaced, either for brand new or part worn tyres that have the required tread depth.
Windscreen
If you have a noticeable issue with your windscreen, this might not be an immediate fail, but it's important to know what is and isn't an MOT fail.
A chipped windscreen that is smaller than 40mm in size, your vehicle should pass its MOT. Any cracks larger than 40mm are likely to fail, as they can obstruct your view of the road ahead.
Solution – there are several services that can fix a chip in your windscreen using resin, providing that the chip is small enough to do so.
If you have a crack in your windscreen, you should look at getting this replaced as it will fail the MOT.
There are plenty of services that can replace a windscreen for you. If your windscreen has been cracked in an accident, you may be entitled to a discounted replacement through your insurance.
Registration Plate
As the registration plate is used to identify the vehicle and when the car was first registered. You must display a front and rear registration plate when you drive on any public roads.
You can be stopped by the police if you fail to display a registration plate on your vehicle.
If your registration plate is obscured, damaged or delaminated, or is obstructed by an additional fitting, this could case your vehicle to fail its MOT.
Major fails include:
Number plate missing
Number plate illegible
Number plate showing incorrect registration
Number plate not conforming to specified requirements
Solution – if your registration plate has become obscured or damaged, you should look to replace the plates as soon as possible to prevent failing the MOT.
Regular vehicle servicing can help keep you out of the woods when it comes to putting your car through an MOT as most things will be picked up on long before they become too much of a problem.
Whether you require servicing or MOT in the March area of Cambridge, look no further than Pilgrims of March, who would be more than happy to provide you with the services you need.
Latest News